In 2020, email marketing software continues to play a critical role in successful business marketing strategy. 81% of small businesses use it as their primary customer acquisition tool. Whether you are a restaurant or a global recruitment company, email marketing is often at the heart of your marketing.
By 2023 it is forecast that there will be 4.3 billion active email users with 293.6 billion emails sent and received every day.
What Is Email Marketing Software?
Email marketing software services help streamline your marketing efforts. Most businesses will have a customer database of hundreds, if not thousands of users. Email marketing lets you utilise this often untapped resource.
Whether you are announcing a new promotion or introducing your business services. Email marketing software is quick and easy to use, enabling you to send thousands of emails at the click of a button. With an ROI of £32 for every £1 spent on email marketing software. This method in 2020 continues to offer a great return on investment.
Email software helps you stay better connected with your customers.
Email Marketing Software Tools
In this article, we are going to rank the top 10 email marketing software tools that businesses should be using in 2020. As a constantly evolving and growing marketing method, as a business owner, it is important to the latest email software tools.
1. GDPR Compliance
With the introduction of GDPR in May 2020, this changed how companies store and process data. When it comes to email marketing software (which is often cloud-based), organisations had to start asking where their customer's private information was stored.
Many email marketing software companies were based overseas, with providers often in the US. This meant that many UK companies were often shipping their most critical private information to overseas territories. These often do not have the same data protection levels which we expect in the UK.
GDPR stipulates that if you are using an overseas email marketing software supplier GDPR regulations need to be followed. As this is an EU law, British companies using an American provider for their email marketing are now in breach of GDPR. (Unless you have the explicit consent from all your subscribers to waive their rights to data protection).
With the advent of GDPR. UK companies ideally need to find a UK (or EU) based supplier for their cloud services.
GDPR placed companies such as Email Blaster in a strong position. Offering the same level of service that you would expect with the American suppliers but with servers and network located exclusively inside the UK – complying with GDPR legislation.
2. Email Marketing Software Automation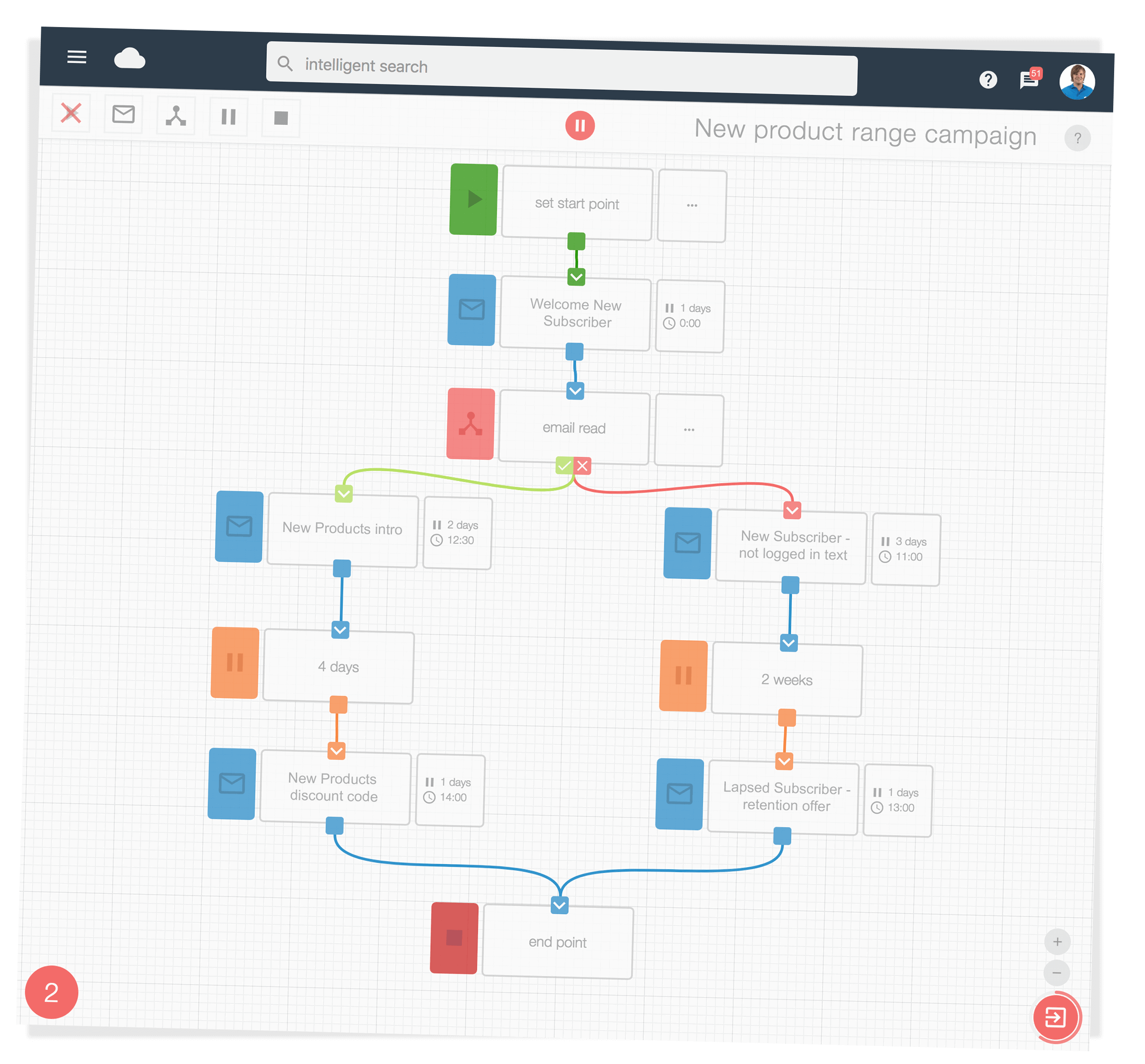 In 2020, Email Marketing Software Automation is king. In the current economic uncertainty, companies are being forced to cut back on staff and resources. We are all having to do more with less. This current climate makes email automation an even more exciting proposition.
Email marketing software automation lets you fully automate your email marketing, removing the need for any manual intervention.
When someone joins your mailing list, a new subscriber can be automatically sent a series of perfectly timed emails. From a welcome email upon joining your mailing list to a series of offer based emails. By using email marketing software automation, the whole process can happen in the background without any manual setup or intervention.
Email marketing software automation tools can also be decision based. If a subscriber clicks on 'Product A' inside your mailer, they can be automatically dispatched a follow-up email with further details on the specific product they clicked on.
This allows your email marketing software to automatically learn and react to your subscribers buying habits and interests.
And the best thing… this process can happen automatically. There is no need for you to delve through gigabytes of raw customer data, email marketing software automation happens automatically, constantly evolving and learning from your subscribers to provide a much more personalised marketing experience.
3. Using Subscribe Forms To Build An Email List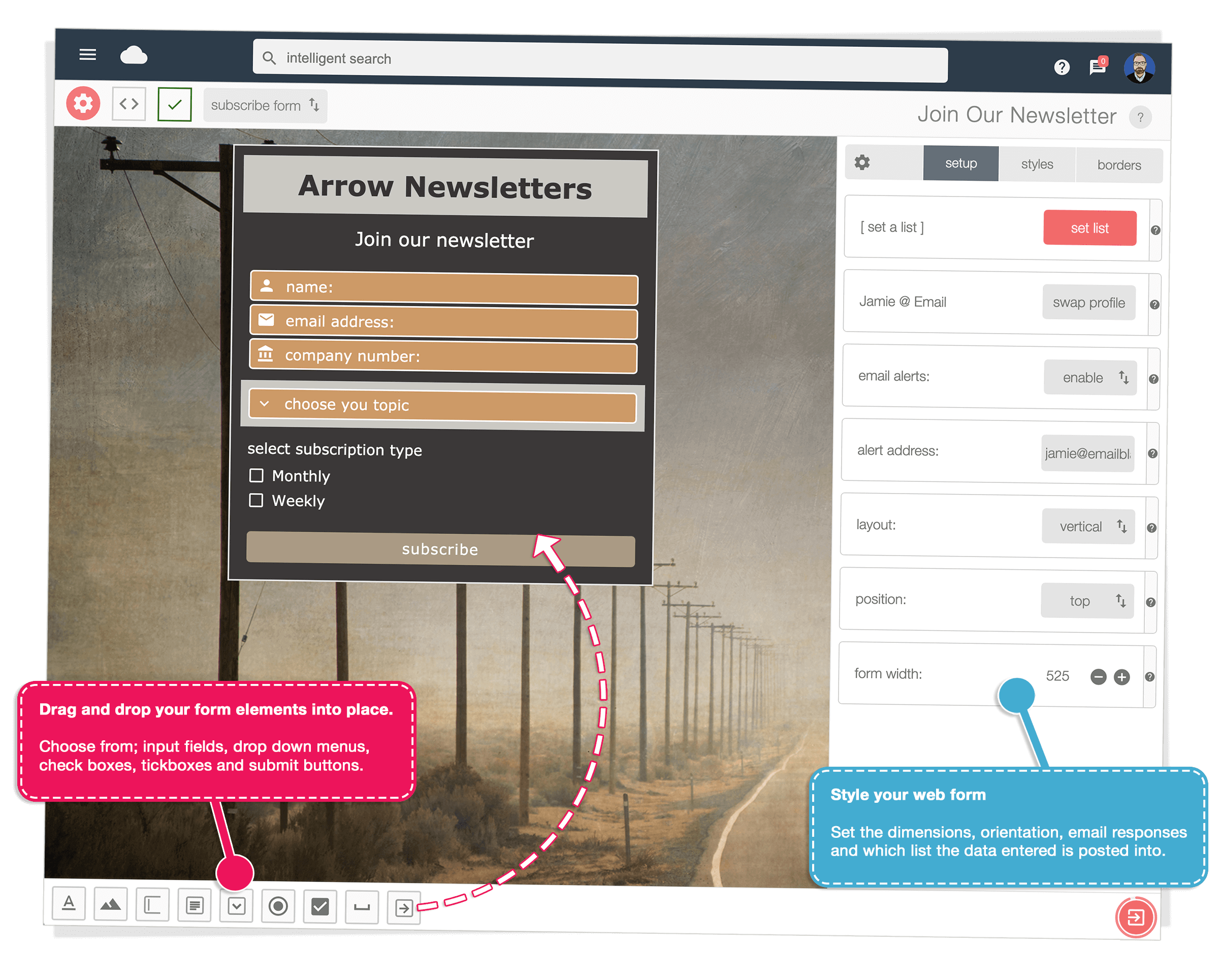 In 2020, it is expected that even the smallest company will be using email marketing software. 81% of small businesses use it as their primary customer acquisition and retention method.
One of the most important tasks when getting started with email marketing software is putting together your mailing list – these are the people who you are actually going to email. A good mailing list will provide you with the source of business revenue for years.
Adding a newsletter subscribe form or landing page to your website is a fantastic place to start. Visitors landing on your website can be prompted to join your subscriber list. Within a few months of adding a subscribe form to your website, your mailing list could be in the thousands or tens of thousands.
Email marketing software platforms often drag and drop builders to design your own newsletter signup form which then can be embedded into your website.
When a subscriber lands on your website, you can then prompt them to join your mailing list. Cloud software solutions such as Email Blaster can automatically verify their details and add new subscribers to your mailing list.
Newsletter subscribe forms and landing pages can also be automatically optimised for both desktop and mobile users. In 2020 it is critical that any landing page looks perfect on both desktop and mobile.
4. Drag and Drop Email Builder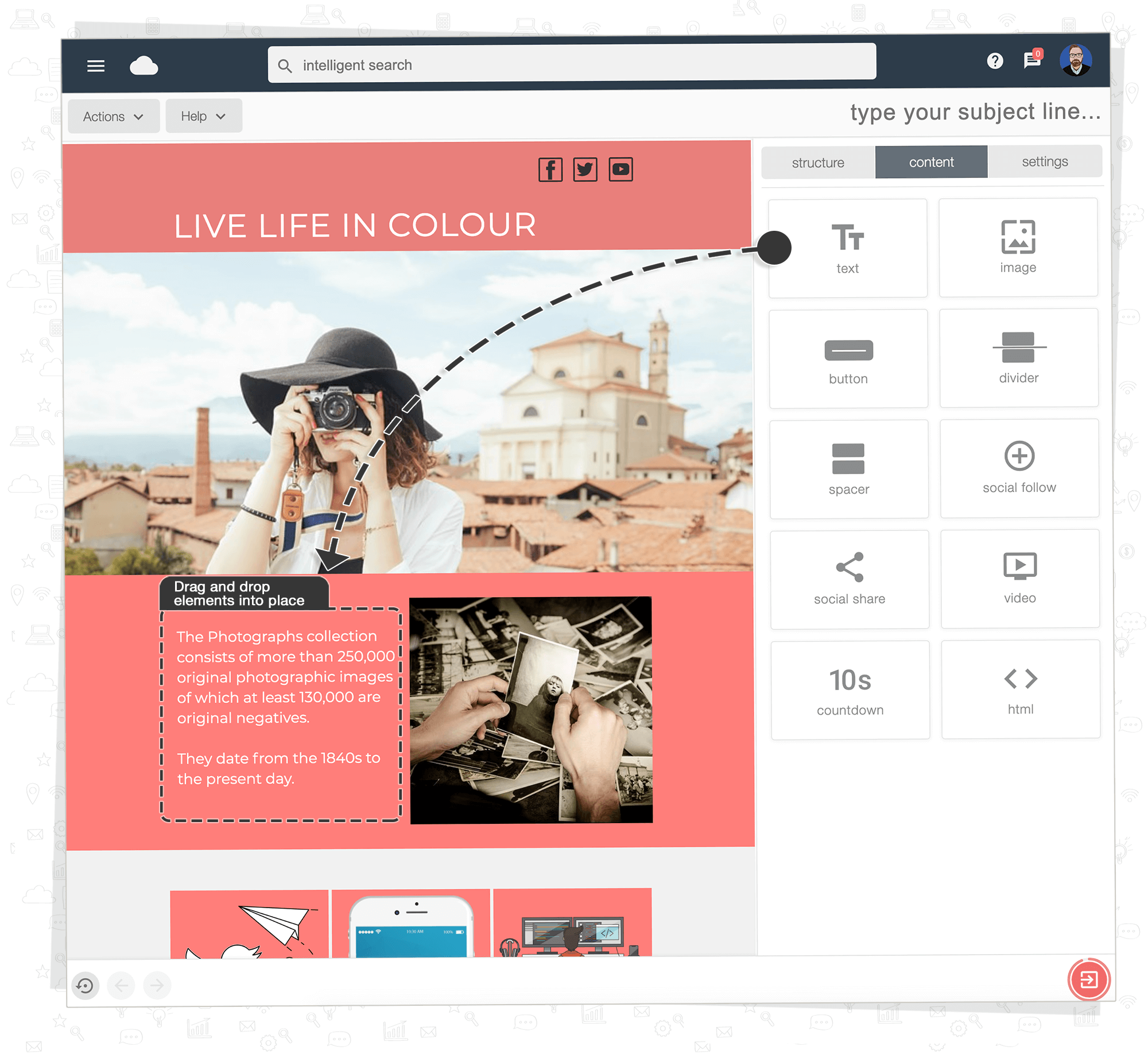 Email marketing software will often include a drag and drop email builder (This is the tool that you will use to design your email). In 2020 a drag and drop builder is one of the most powerful tools in your arsenal to design a professional looking mailer.
When using a drag and drop builder, you don't need to get your hands dirty learning to code. The builder will allow you to drop; images, text, video and more onto your email (writing all the code for you).
Your email marketing software should allow you to design a professional looking mailer quickly and easily. To assist with this, most platforms will also include a free to use email template library – offering a wide range of pre-made templates which you can easily customize for your mailing.
Using a drag and drop builder inside your email marketing software helps you quickly and easily design a professional looking mailer that will look great for all subscribers.
In 2020 it is expected that all your marketing communications should look professional and maintain your brand images. Drag and drop builders inside email marketing software allow you to produce a professional design without the hassle.
5. Video and Email Marketing Software
Video is a hot topic in 2020. Everyone is curious about how to use it in conjunction with their email marketing. Research shows that by adding video to your email marketing can increase your click rates by up to 300% and open rates by an average of 6%
As marketers, we want to pack out email newsletters with plenty of information. However large blocks of text are often perceived as intimidating and prompt low engagement.
Video is a great way to include a lot of content inside your email newsletter in an inviting way that subscribers are more likely to engage with.
Most email clients such as; Outlook and Gmail don't yet support the technical requirements to play a video inside the actual email. In spite of that, 76% of marketers plan to use YouTube inside their email marketing this year.
Leading email marketing software platforms have developed methods to combine email and video by using a Content Delivery Network (such as YouTube).
As a video content creator, you are more than likely publishing to platforms such as YouTube. After getting your YouTube share link, email marketing software such as Email Blaster has the ability to grab and embed the video thumbnail and place it on your mailer. When a visitor clicks on the video thumbnail, they are forwarded to your video (normally hosted on YouTube) and it will start playing automatically.
Video and email is a powerful tool being used extensively by email marketers in 2020. Once vendors such as Outlook support the playing of video inside the actual email, we can expect the partnership between email marketing software and video to continue to grow.
6. Inbox Testing
Inbox testing is a powerful email marketing software tool that lets you see how your email will look on various user devices before broadcasting your campaign.
A few years ago it was expected that all of your subscribers will be sitting at their desk or home computer. In 2020, today's email-scape as evolved greatly. You can expect an average of 63% of your reads originating from mobile devices. No longer are we designing for a big desktop monitor for reading an email.
With this evolution in email, as designers we need to give consideration that many of our subscribers will be reading and interacting with your email on a small mobile screen – sometimes no more than 5 inches in size.
We are likely only a few years away from being able to read email on your 42mm watch.
For this reason, we need to be able to clearly see how our mailer will look on both desktop and mobile. Some email marketing software vendors such as email blaster now provide mobile inbox testing.
When designing your next campaign, by hitting the preview button you can quickly preview your mailer on a range of the most popular smartphones. Whether your subscriber is reading your email on a Google Pixel or the latest iPhone, email marketing software vendors will often provide an extensive testing experience for a wide range of mobile and desktop applications.
7. Responsive Email Creation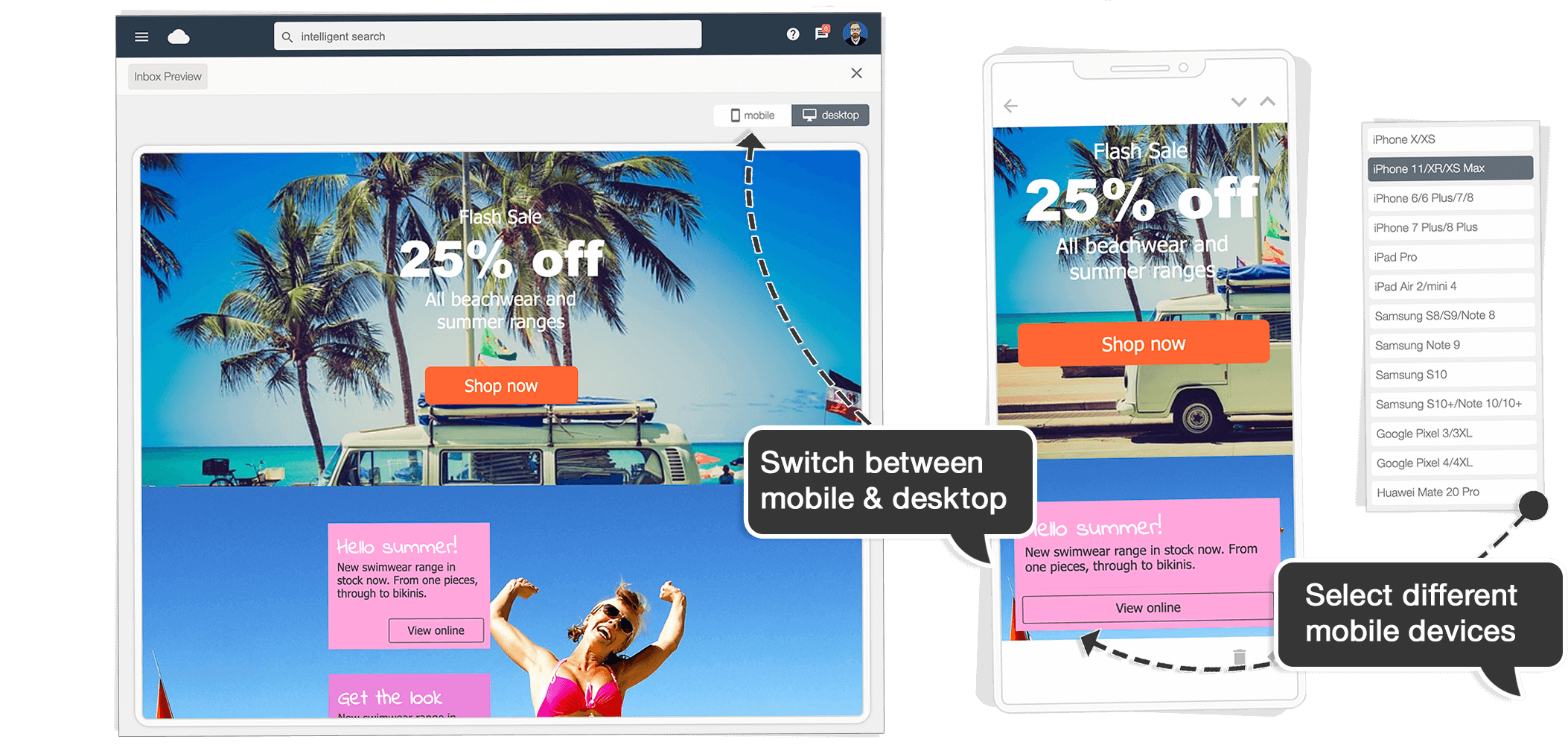 Traditionally both corporate websites and email followed the same rules. They were both a fixed width. If your screen was wide enough, both would sit in the middle of your screen with a gutter each side. If your screen was too small, an ugly horizontal scroll bar would appear with overflowing content being hidden.
In 2020 it is expected that your website's content management system and your email marketing software with both create responsive content.
Responsive content will automatically adjust to the available screen space. For example, if your subscriber is viewing your email on a small phone screen. Your email newsletter will be intelligent enough to automatically re-size itself to the given screen space.
Some email marketing software platforms also give you the ability to hide larger elements and graphics for smaller screens. A huge banner that may look amazing on a 30" desktop screen just won't transpire to that small mobile screen. So along with elements being able to re-size, your email marketing software should give you the option to hide certain content that does not fit well on a small mobile screen.
Responsiveness lets us create better-looking email marketing that looks great regardless of the device that your email marketing is read on. As a marketeer, you want to ensure that your email marketing software is automatically generating responsive layouts.
8. Automated Email List Cleaning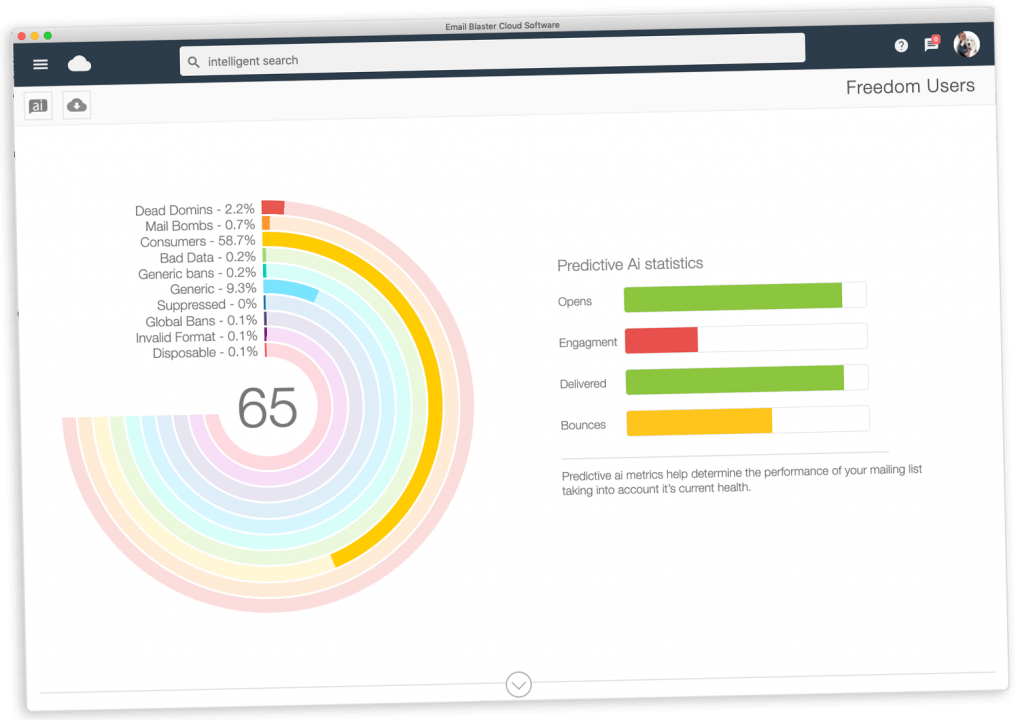 List hygiene plays an important role in the success of your email marketing.
In 2020 email service providers such as Gmail and Outlook will actively penalise companies who do not perform regular housekeeping on their mailing lists.
As email marketing senders, what exactly do you need to do to ensure that you stay on the right side of Gmail and Outlook? Housekeeping and list hygiene involves regular audits of your email marketing database. Old, dead and subscribers who never interact with your newsletter should be removed. Deadweight inside your email database will damage delivery and inbox placement for all your subscribers.
For many organisations could be considered a daunting task. How do you audit thousands of subscribers working out who stays and who goes?
Thankfully most email marketing software platforms provide a rich toolset to help you audit and clean your mailing list.
Email Blaster features the revolutionary List Ai which aims to do all the hard work for you. At the click of a button, List Ai will audit your mailing lists, removing dead and invalid data. At the end of the automated scan, you will be left with a nice clean email marketing list that is ready to use and generate great results.
List Ai also provides a detailed report from each email version scan. Letting you know the geographic location of all your subscribers, along with a detailed list of dead and removed email addresses.
Dead and invalid data contained inside your marketing list can really harm delivery. In 2020 there it is expected that your mailing list remains clean and is regularly audited. List Ai, integrated free inside the email marketing software platform, really helps keep your lists clean and performing well.
9. ROI & Abandon Cart Tracking
Return on investment and abandoned cart tracking is a critical tool to help quantify the success of your email marketing software.
Sending out a regular newsletter without any way to report on its success will stop you refining and improving your email marketing strategy. In 2020 an active feedback loop is critical to understand your email marketing.
As marketers, we need to be able to identify what works and what does not work. ROI tracking helps us do this.
ROI tracking will automatically track who visited your website from an email campaign, and subsequently track those that purchased and what they purchased. This allows you to know how much revenue each email campaign generates.
Integrated abandoned cart tracking inside email marketing software will be able to identify who added items to their shopping cart but never purchased. Abandoned carts contain customers who are on the verge of purchasing but just need a little more encouragement. Email marketing software that is able to identify abandoned carts helps you quickly pinpoint those that may need a little more incentive in order to complete their purchase.
Tools such as Email Blaster's Insight tracking will automatically monitor both ROI and Abandoned Carts. Both can be easily integrated into any website, maximising your visibility and available reporting capabilities.
10. A/B Testing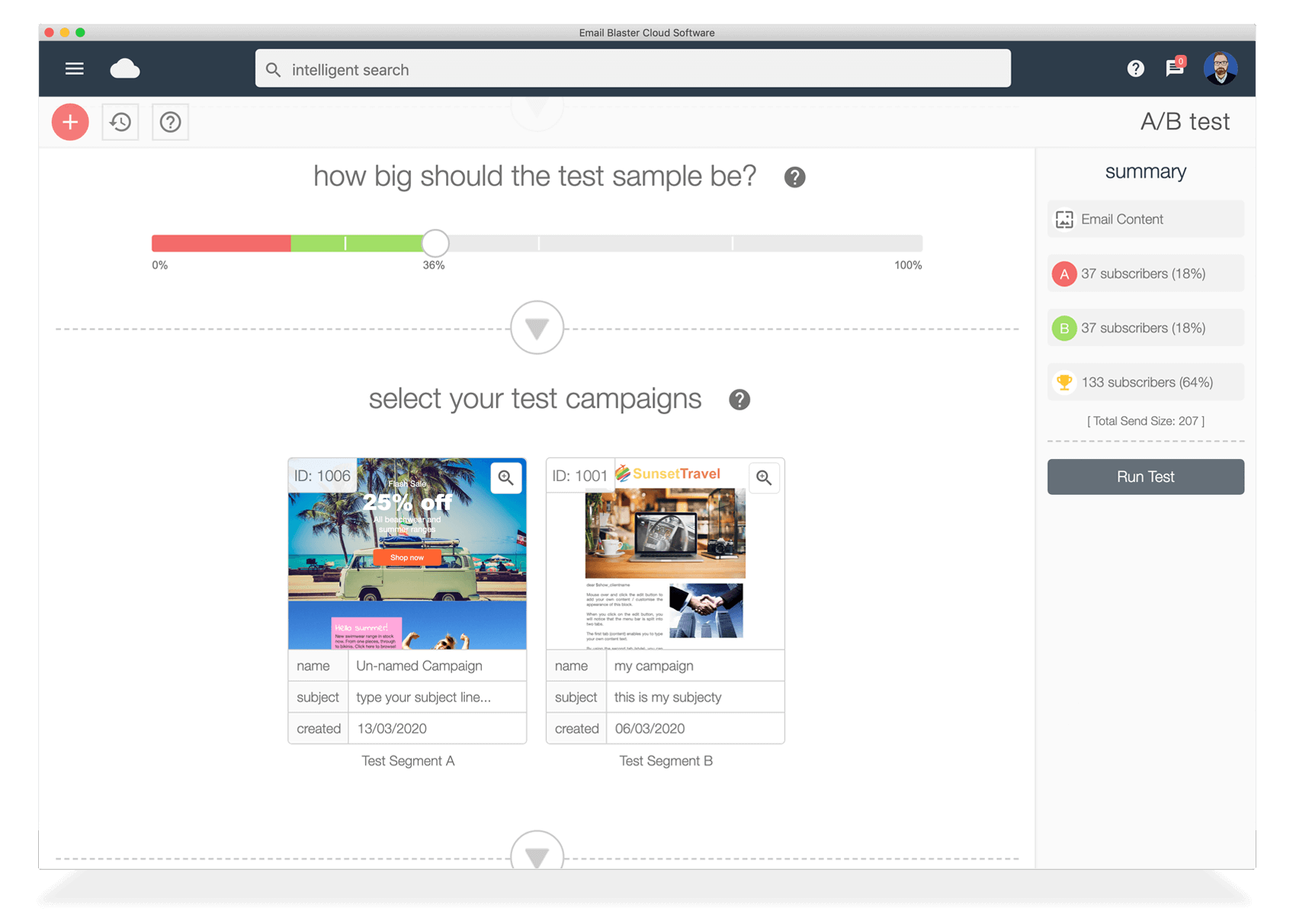 Transparency is critical in 2020. Being able to identify patterns, what works and what does not work with your email marketing helps you improve and refine your offering.
Many email marketing software platforms include an A/B testing function. This type of app enables you to create two completing email campaigns with a distinctive variation.
For example, one campaign may use a discount lead subject line, while the second campaign may use a subject line empathising of quality of service.
A/B testing will send each competing email campaign to a random sample of your mailing list, in order to identify which campaign was more successful. Often success is evaluated by which one has the highest open rate.
After the test has been completed, your email marketing software will automatically evaluate the results. Determining the winner and then subsequently sending the winning campaign to the remainder of your mailing list.
This modern approach to email marketing lets us understand more about our email subscribers. What chimes and what provides the best results – A sales-focused campaign or a service lead campaign perhaps?
This email marketing software tool provides a greater level of feedback. While it has been around for a few years, in 2020 we are seeing it remaining at the core of the email marketers toolset.
Made right here in the UK. It's easy to send great email marketing with Email Blaster. Open a Free account and get started today:

Open A Free Account