This beginners guide will explain what is email marketing and how it can work for your business in 2021.
As a small business owner, we are all told that we need to be email marketing. It is the most profitable marketing channel, offering an average of £32.28 return on investment for every £1 spent (DMA).
If you are a bit confused about email marketing, where to begging and how to make it work for your business. We have put together this beginner guide focused around top trends in 2021.
What Is Email Marketing?
"Email marketing is the act of sending a commercial message, typically to a group of people, using email." (Wickipedia)
The message that you send could range from your latest internal staff newsletter through to a promotional message or product announcement sent your customers.
When email marketing, you are normally broadcasting your email to hundreds if not thousands of people in one go normally with the intention of generating sales for your business.
However, in the current climate with more of us working from home, in 2020 we saw a considerable increase in larger companies adopting email marketing as a means to broadcast internal staff newsletters. Larger companies with thousands of employees who are now home-based faced the challenge of how to communicate effectively with their staff. Email in 2020 proved to be a highly effective communication medium. At Email Blaster, we expect this trend to continue in 2021.
How Do You Get Started With Email Marketing?
Getting started with email marketing may seem a little daunting at first, but in 2021 there are a vast array of tools available to quickly and cheaply get into email marketing and send your first broadcast.
Most tools are cloud-based. This means that you can often log in to your chosen marketing platform from your web browser and start using it right away – without having to go through complicated setups or installs.
Generally speaking, most email platforms are easy to get started with. Offering drag and drop email designers along with tools to quickly import your customer or subscriber list.
In the UK Email Blaster offers one of the easiest to use email marketing platforms ideal for both beginners and experienced users alike. You can open a free account and start designing your first email right away.
Why Do I Need To Use Commercial Email Marketing Software?
If you are just getting started with Email Marketing, you may be thinking:
Do I need to use commercial software? Can't I just do it myself from Outlook?
Free email accounts like the ones offered by Gmail or Outlook are not set up or designed for volume/commercial email. It is often against the service providers terms of service and may result in your email inbox being shut down. The reason for this is that email marketing requires specialist servers that are designed for large volumes of email along with automatic unsubscribe management (as required by GDPR).
In addition to this, commercial software will offer a whole host of tools to maximise the success of your email broadcasts – from identifying who opened and read your mailer through to improved delivery and inbox placement.
Who Am I Going To Email?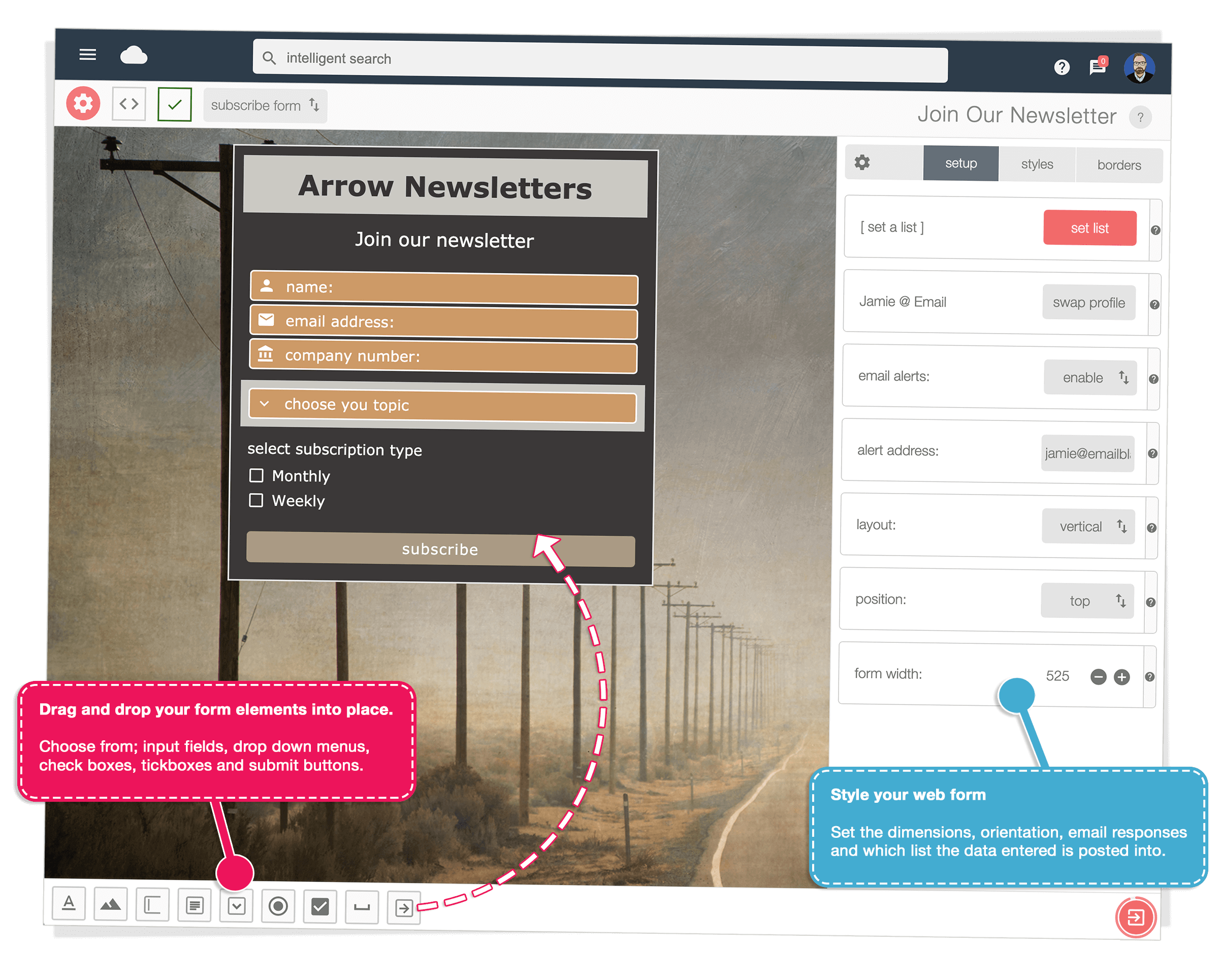 When first getting started with Email Marketing, you may have designed a stunning newsletter but then arrive at the stumbling block of:
"Who am I going to send my email to?"
The success of your email is reliant on the quality of your mailing list. Sending out to your past and present clients is a great place to start. These people know who you are, email marketing can be used to build brand awareness and encourage repeat business.
To build new subscribers one of the most successful methods is to embed a newsletter signup form on your website. As a consumer, when first landing on a website you will often be presented with a prompt to join their mailing list. This approach is used very successfully by businesses all over the world and can often generate thousands of new subscribers every month.
If you are an Email Blaster user, we offer a free tool to design and embed a newsletter signup widget on your website. When a new visitor lands on your website, they will be prompted to join your mailing list. Once subscribed they will receive an email confirmation and be automatically included in your next email broadcast. This automated approach makes it very easy to build up a quality subscriber list very quickly.
To help turbocharge the success of your email signup form, we would advise offering an incentive to subscribe. Some retailers will offer a discount off your first purchase or exclusive access to sales. Offering an incentive will grab attention and help pull in wavering potential customers.
Automate Your Email Marketing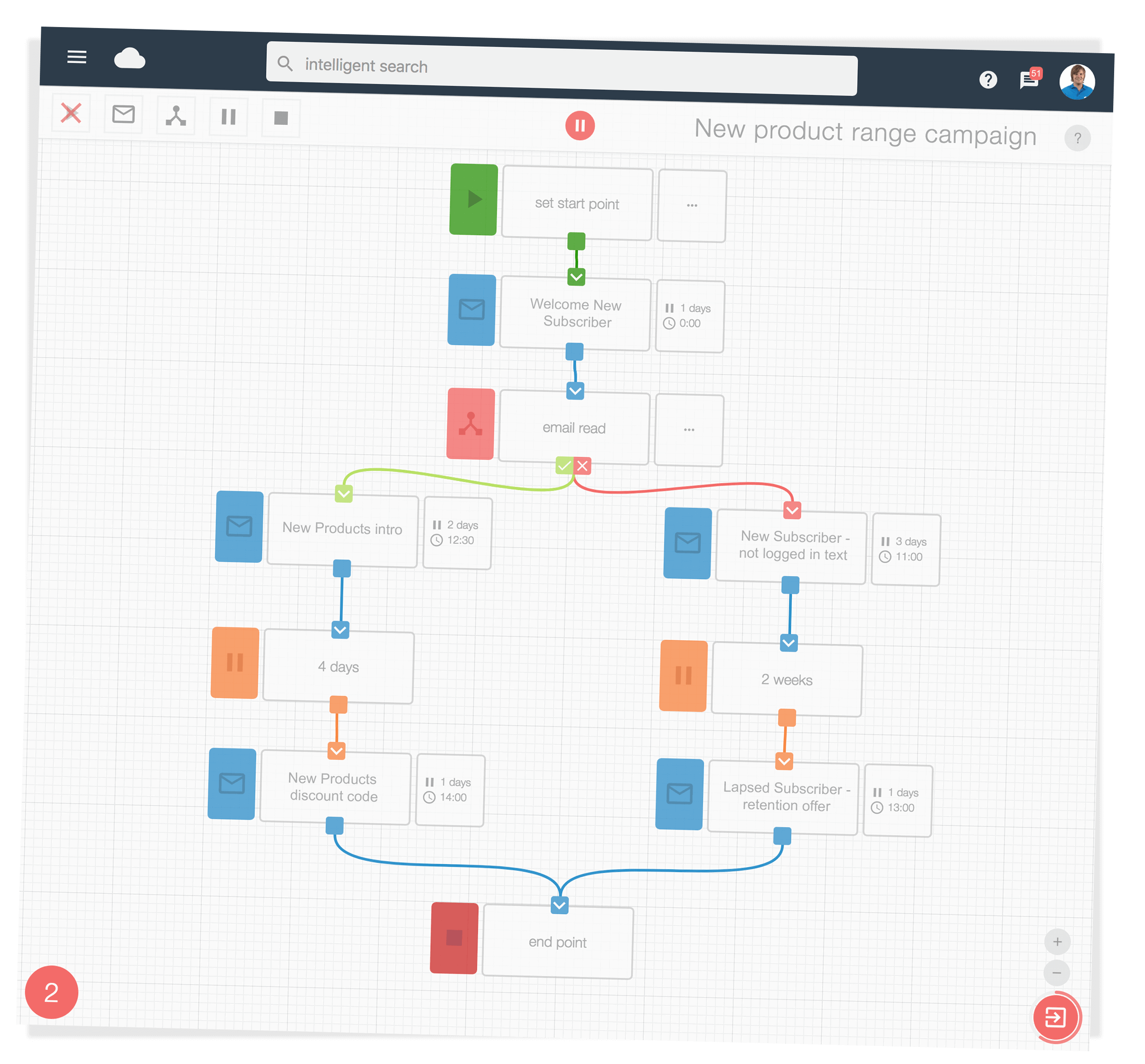 In 2021 email marketing automation will see further and rapid growth.
But what is email marketing automation? It may seem a bit robotic and cold, but in fact, automation allows you to offer better personalisation of your email marketing targeted to specific subscribers needs and areas of interest. If you are a small business, automation may also save you a lot of time.
In a nutshell, automation is where your email marketing software will send out automated email marketing for your business based upon your criteria.
When someone joins your mailing list, by using automation you can send a series of welcome emails with information about your business and what you do.
Automation can also listen to your subscriber's habits and offer a much more personal experience. For example, if a subscriber shows interest in a specific product that you sell – automation can listen for that and send further emails with tailored information on the identified product of interest. Automation allows your email marketing to get much more personalised and much less robotic.
Email Blaster offers an easy to use automation app which can do all the hard work for you. We would recommend checking out the Automate App which is included free with all standard monthly subscriptions.
How Much Does Email Marketing Cost?
Email marketing often requires little investment and is quick and easy to pick up.
At Email Blaser we offer two routes;
Pay as you go is perfect if you are just starting out. Offering a cheap solution where you only pay for what you use with no monthly commitment or large expense. When opening a free pay as you go account, this comes with 100 email sends allowing you to send your first newsletter totally free. You can then add extra send credits as you need them often costing no more than £5 (depending on the volume you need).
If you are plan to send marketing fairly regularly, we offer a monthly account suited to regular senders (If you are sending every month). Monthly packages start at £12.99 pm, allowing you to send up to 2,000 emails per month with telephone support to help you get started.
Email marketing has been around since 1978 when Gary Thuerk sent the first email blast to 400 machines. This generated $13 million in sales (Brafton). Since then email broadcasting has been a great success story, used by businesses all over the world as a means to generate income. Offering the highest return on investment, email marketing will continue to grow this year in 2021.
If you are just starting out with email marketing, we would love you to to try Email Blaster. We are based right here in the UK and offer great phone support to help you get started along with industry-leading software that is easy to use.