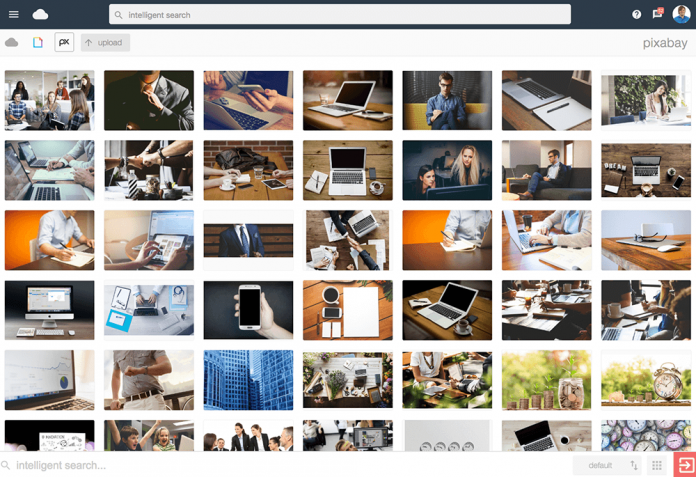 File Cloud, the idea.
At the start of 2018 we conceived the idea to re-vamp the integrated image manager inside email blaster. When you are building an email marketing campaign, the image manager helps you to; upload/store and organise images and other related media that you wish to use/embed on your campaign. The reason the proposed revamp was that we felt our current offering was starting to look a little tired and was not running as well on our latest generation of server hardware –  it was an external plugin, we thought that we could do a lot better by developing our own custom image manager. In April 2018 we rounded up the Dev team, sat down with a coffee and brain stormed.
After our brainstorming, we came up with the following rough concept: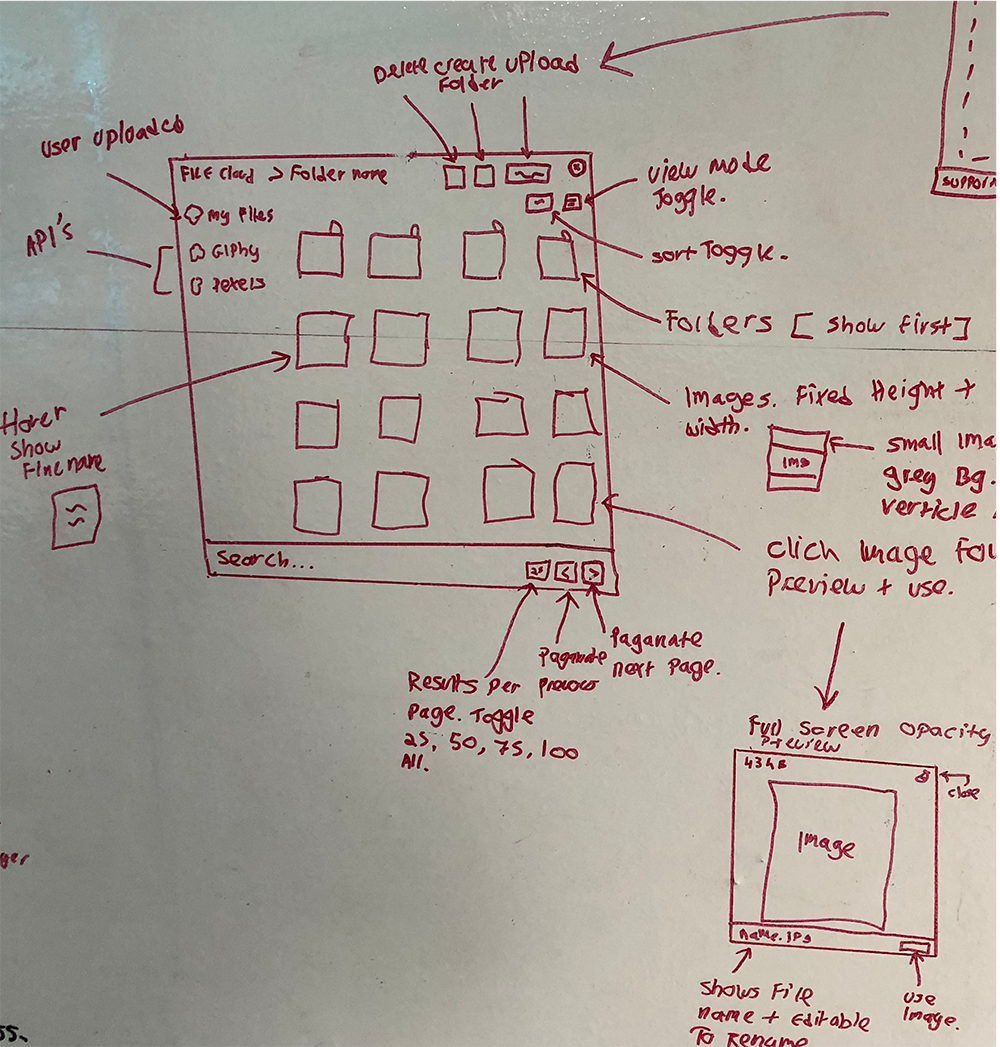 Making it different.
While a little rough, our brainstorming meeting produced some fantastic ideas of exactly what we wanted to achieve. We wanted to take this new plugin much further than simply providing a dumping ground for images:
Any file type. Not just for images but almost any file type. Images are not the only item that we need to attach to our email marketing campaigns. Clients regularly need to send; price lists, brochures and more – these all come in a wide range of file types.
Stock Images. For small businesses, sourcing the perfect image for your newsletter can be difficult. Larger businesses often have access to pre-made promotional materials, the smaller business does not have this. We wanted to integrate with stock image galleries to provide free to use stock images.
Unlimited Storage. We did not want to impose any caps on the amount of files you can store. Worrying about how many files you can safely store should not be of concern. This would mean that we would would need to develop large storage areas!
Image Editing. Small businesses often do not have access to expensive image editing software, often resorting to Microsoft Paint. We wanted to integrate an easy to use cloud image editor.
So, that was the plan, we went away and started development…
Development.
What initially started off as a small project once we got into development quickly snowballed (often the case!). More and more great ideas followed.
We quickly came up with the name 'File Cloud' for this new project, so we registered the domain securefile.cloud to actually store all File Cloud data.
Development was worked on full time by Phil and Chris with regular catchup and presentation meetings every Friday – to discuss further ideas and demo progress.
After several months of development and we came up with with an almost finished project – bug and browser testing always takes a while on such a large project! Development was fairly smooth, with no real hiccups, just a huge jobs list. After several revisions we settled on the final front end design…(not that far off the original concept sketch!)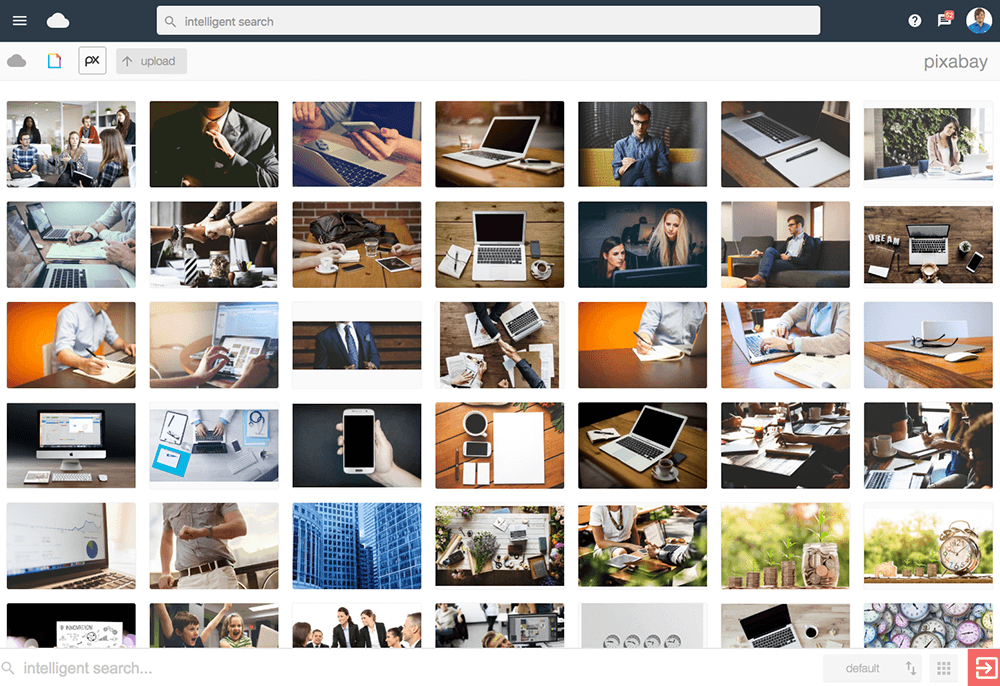 To provide extra screen space for images, we re-located the vertical nav bar to the top of the screen, the feeling was that for smaller screen resolutions this unlocked a larger amount of screen real estate to display images/files.
Hardware.
As soon as we got into development, it quickly became apparently that all the new features that File Cloud offered would require much larger and robust storage requirements to store and quickly serve images when embedded inside an email campaign.
A single email campaign may contain 10 or more images, being called by thousands of subscribers all over the world within a short space of time.
We started investigating additional server hardware requirements for File Cloud. We settled on our favourite brand of enterprise NAS server and ordered an abundance of WD Gold enterprise HDD's for storage.
Going Live.
Going live with such a large project is always a busy time. Pushing out new code to the live network without causing disruptions takes plenty of coffee and a lot of concentration.
The rollout of File Cloud went pretty smoothly. The plugin was rolled out in the background about a week to going actually live, this gave us time to run extra testing on the live network before the 'grand opening'.
One of the last jobs was to migrate all previous everyones images from previous campaigns to the new server hardware and go live.
A week after going live with File Cloud, we have had some really amazing feedback. File Cloud is a great new addition to the email blaster cloud platform and will serve us well for hopefully many many years to come.