New releases and upcoming projects
It has been a busy and tough 6 months filled with many challenges and tasks to overcome, many that have had me pulling my hair out and jumping for joy when we finally nailed it.
Campaign builder
We recently went live with our new campaign builder (cBuilder3) and if I say with a grin and a hint of smugness it supersedes to previous one and trumps it a thousand times over. Adding new features like a countdown timer, Youtube and Vimeo video integration along with social cards and all new image storage on the cloud, complete with a cloud based image editor. We also provide thousands of royalty free GIFS and images for you to use and the ability to customise your own video thumbnail preview.
We are very pleased with the new features and how they have been integrated into the software to create the most efficient, expressive and overall complete campaign builder possible. We eked out every last ounce of perfection we could to the point of driving me and my fellow developers to point of insanity. If you don't believe me, I once had to spend a day and a half trying to fix a bug with line breaks in firefox. I tried everything I could think of, and when I saw the likes of Mail chimp hadn't even been able to fix the problem, I was ready to give
up but I persevered and was eventually able to solve the mystery.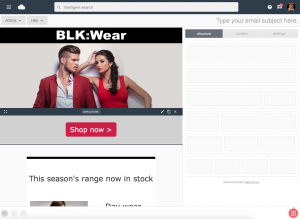 During this experience I learn't the hard ships of what it's like to work with outlook as a email browser. Oh good god was it a living nightmare. For anyone who has had the misfortune of trying the fix the dreaded white line bug, I feel for you. Even some simple things like rounded corners, animated gifs and background images are all not supported in outlook and this isn't even an old outlook, this is outlook 2016.
For further proof of the limitations of outlook as well as other email browsers here is a quick chart: https://www.emailblasteruk.com/email-marketing-resources/email-browser-compatibility
Apologies for my rambling but after 5 months of toiling away working endlessly with these issues, you would be the same. The important thing is its completed and were very proud of it.
List builder and our youtube channel
However the new stuff doesn't end there as I went straight into improving our list builder app. List builder is now live fit with an all new error report system to quickly fill you on all the lists and download combinations you can do from your sent campaigns. The process of building a new list of opens, clicks, bounces etc is now quicker and slicker then ever.
We have also had a new addition to the team in the form of Monty the golden retriever. He has only been part of the team for 2 weeks but given that is already a quarter of his life, he has made the most of every minute. He has made sure to pee in each corner of his office and stand firm against any postman that has dared enter our office. Luckily he settled in instantly and is for the most part quiet and always playful.
We currently have lots of plans to build up our youtube channel (email marketing uk) going forward with videos, on a wide array of subjects coming soon including:
How to create your own video setup?
Basics guide to email marketing. Email marketing for SMES.
The jargon of email blaster and what does it all mean.
The troublesome nature of using Outlook – Which is the best browser for email marketing.
As well as many videos looking at were email marketing is in 2019 and where it has been and where it is going. check here to see our current videos: https://www.youtube.com/user/bitesizemarketing/videos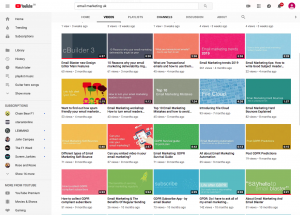 So keep us in mind as going forward as we have much more in-store and plan to be at the for-front of email marketing going into a new decade.