Automate has us all pretty excited at the moment. It's Friday afternoon and i've just got back to my desk after presenting the latest Automate updates to the team. Next week, everyone at email blaster will be putting their existing projects on hold for a week to focus on the finishing touches of Automate.
Automate is the biggest ever single project that we have worked on at email blaster, and we are nearly there. This week we finished all major developments. My jobs list for Automate developments is down to the last minor additions.
What does it do?
Automate has the ability to fully automate your email marketing. When a subscriber has their birthday, Automate can wish them happy birthday. When a subscriber joins your mailing list, Automate can send them a series of timed welcome emails. When a subscriber interacts with your newsletter, Automate can send a personalised response.
That's why we are so excited.
Interface
Automate does a lot of complex things, but we have put a huge amount of effort into making it as easy to use as possible. Everything is controlled by building your own drag and drop flow diagram – adding decisions, email sends, pauses and more.
As a little sneak peak, i've induced a quick screen below: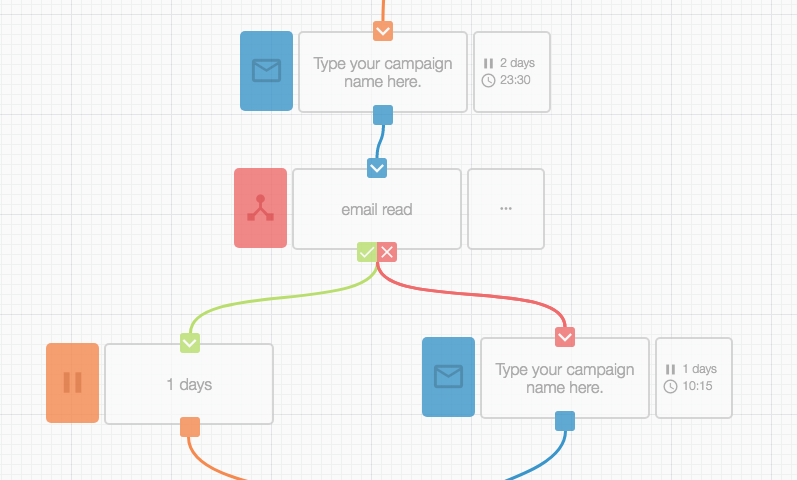 I am always a believer in 'the attention is in the detail'. For instance, getting the perfect curvature on the flow diagram connecting lines was something we spend a great amount of time on. The little things go a long way to create a quality feel for the product.
The interface i hope you will find clear, intuitive and easy to use. Following this methodology has certainly tested me with this project however – for the simple reason that Automate does so much, i needed to keep it still simple and intuitive. Hopefully i have achieved the balance between feature and ease of use. Time will tell.
When can i use it?
The multi million pound question! On current time scales, i am hoping to start rolling out automate to the live network in the next 7 to 10 days. – Before then, we have a whole library of video tutorials to create, finishing touches and not to mention another round of bug testing!  –   so it is going to be a busy one.
Once pushed to the live network, we will be inviting a few companies to test everything. If this is something which you would like to be involved in, drop us a ticket from inside your email blaster or grab us on live help – we always appreciate the help and input.