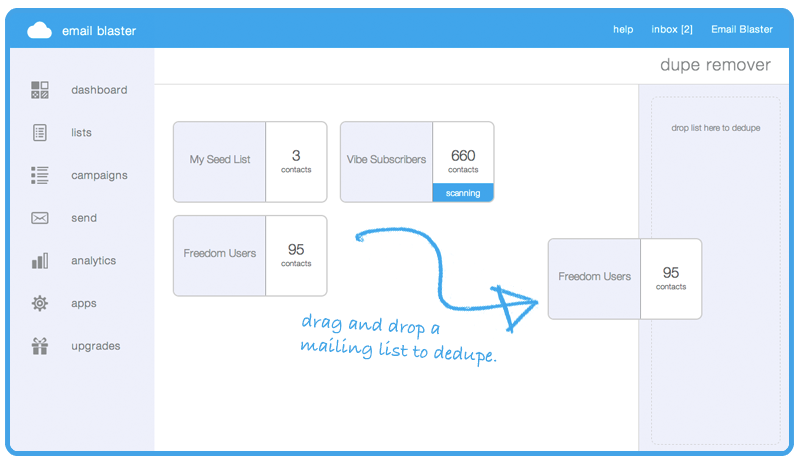 No one likes receiving multiple copies of the same email. For this very reason, we have come up with a little app to solve this problem. Introducing; Dupe Remover.
Dupe remover will scan your mailing lists for duplicate email addresses and automatically remove any matches. There is no need to write complicated excel formulas or manually scan your mailing lists for duplicates – with a drag and a drop email blaster will automatically remove any pesky dupes.
To help you get started we have recoded a little video tutorial outlining how you can quickly use the app:
How to use dupe remover
Dupe remover can be installed to email blaster from the app store. If you don't already have the app installed, you can quickly do so:
From the main menu select 'apps'.
Click 'add more apps' to visit the app store.
Select dupe remover.
Click install to install the app.
Once installed you can quickly access dupe remover by clicking on the app icon from your installed apps dashboard.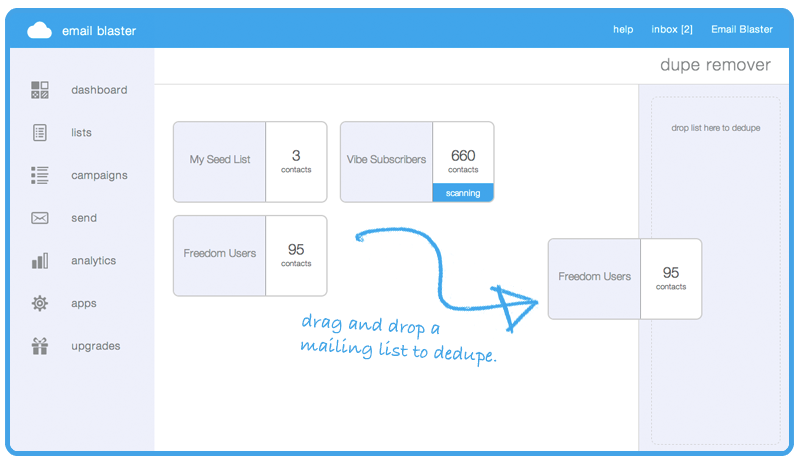 Using the app could not be simpler. A list of your mailing lists will be displayed on screen. Click on your mailing list and drag it over to the drop zone. This will now trigger a dupe scan.
Depending on the size of your database, this will take a few moments to complete. Don't worry, you dont need to stay logged into your email blaster or the app while a scan is running. Your email blaster will continue running while you are offline.
Once the scan has finished running, an eMessage report will be dispatched to your inbox. To access the report, select 'inbox' from the top of the screen.
Ta-da! Your mailing lists are now duplicate free. Easy eh?