At EBHQ we have recently launched our brand new List Doctor, as part of the database import section.  Now, when you import your list of email addresses, prior to being made available for use it will be scanned and checked by the List Doctor.
What does the List Doctor do?
The List Doctor will scan all of your email addresses that you are proposing to use for your email marketing campaigns.  It will check for bad addresses, or addresses that have already requested not to receive email marketing from any source.  It also scans your list for generic addresses that may not have followed an auditable opt-in process.  It will also identify the number of potential consumer email addresses that your list may contain, identifying these is very important if you are intending only to market businesses.
How will using the List Doctor benefit me?
Using List Doctor will have two main benefits that we feel will really help with both the integrity and the effectiveness of your marketing:
(i) By removing bad addresses, your email send credits will go further, as you are not wasting sends on addresses that would fail (bounce)
(ii) Removing addresses that have already opted out not to receive any email marketing will mean your addresses are filtered, making it much easier to reach the right people.
So how does it all work?
When you first upload your new list, you will see the following confirmation screen:

As the screenshot shows, you will be allocated a time when the List Doctor will be able to scan your list.  The List Doctor runs every 2 hours, so when you upload a list the longest that you will have to wait until it is scanned, graded and made available for use.
After your list has been scanned, List Doctor will then eMessage you with the results.  The list will be graded and the Doctor will indicate in the communication the likely results of using this list to email.
There are two possible outcomes of a List Doctor scan: auto approval or held for manual verification:
Auto approval
If your list has been passed for auto approval you will receive a fairly detailed eMessage with the Doctor's findings: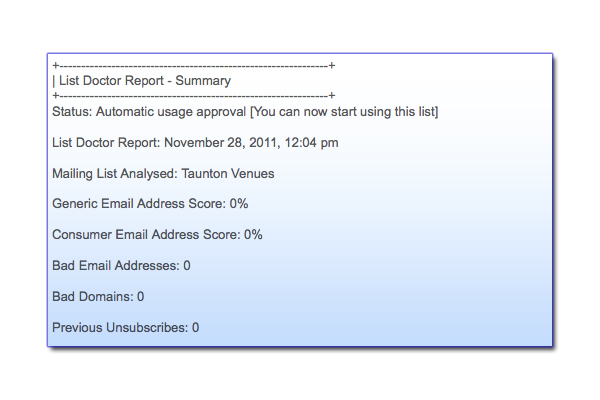 As you will see form the above screen shot, the Doctor gives a percentage score detailing each area that it has looked at.
The second art of your automated approval message will detail any potential consumer email addresses, please note that this only applies to clients who have selected business to business email marketing.  The List Doctor will bring these addresses to your attention as it is vital that you only mail businesses, if you are a B2B client.  Emailing consumers that have not opted in to receive emails directly from you is in breach of The Electronic Communications Act,  the List Doctor will highlight any rogue addresses that may have filtered through to your email database.
Held for verification

If your list has been held for verification, it means that the List Doctor has scanned your list and and recorded a high percentage of addresses that will need a closer look.  The most common reason for holding a list is because of a high number of consumer email addresses, if this is the case then the Doctor will send the above eMessage to you – asking you to confirm that you are emailing consumers and to confirm that these addresses have all followed an appropriate opt in process – generated by the sender of the email marketing.
In order to ensure that your marketing is both legal and requested by the recipient, it is very important that these pre-flight checks are followed.
At EB-HQ we feel that this will really help to optimise your email marketing and maximise your return on marketing spend.